East Coast Cobras now installs Holley Sniper electronic fuel injection systems to replace your tired, old, inefficient, gummy carburetor. Put an end to cold start issues, hesitations, vapor lock and flooding.
Why Holley Sniper?
Bolt on carburetor replacement
Throttle body mounted ECU
Supports up to 650hp
4 wire vehicle connection (minimum)
Integrated fuel pressure regulator
Integrated ignition timing control & coil driver
Color touchscreen for setup and gauge views
Calibration Wizard
Self-tuning ECU means you don't have to be a computer/tuning wiz to have EFI!
Three colors to choose from (polished, black, or gold)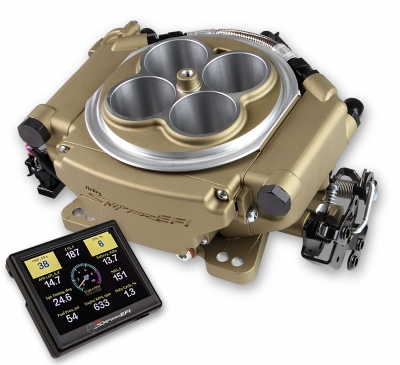 Pricing
Base kits start at $1,699.95 installed (non-timing controlled)
Timing controlled kits start at $1,899.95 (using existing MSD distributor)
Add $600 for EFI fuel tank and in-tank fuel pump
Add $75 for electric fan control
All of our prices match Summit's website prices. Our labor rate is $75/hr.
ECC is open Weekends only for the time being. Car/truck transport available to most New England areas.